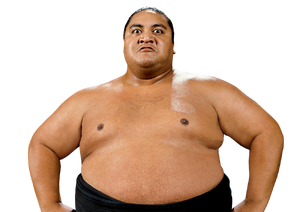 Yokozuna
Statistics
In WWE Games
Yokozuna Bio
Edit
That was the last word many of WWE's top Superstars heard when they faced the imposing Yokozuna. Standing 6'4" and weighing nearly 600 pounds, the massive sumo wrestler from Japan squashed legends like Bret "Hit Man" Hart, The Undertaker and Hulk Hogan on his way to becoming one of the most dominant WWE Champions of all time.
Trained by the ferocious Wild Samoans, the behemoth debuted in WWE in 1992 with the sinister Mr. Fuji guiding his career. The pairing was effective from the very beginning — if Yoko's size didn't seal the victory, a handful of salt from the meddling Fuji would.
Stomping through WWE like a Japanese movie monster, Yokozuna simply dominated. He heaved Randy Savage over the top rope to win the 1993 Royal Rumble Match and then decimated American icon "Hacksaw" Jim Duggan on Raw by crushing him with four Banzai Drops. At WrestleMania IX, the sumo champion overwhelmed Bret "Hit Man" Hart to win the WWE Title. When he lost the championship to Hulk Hogan in an impromptu bout that night, he plowed through the sports-entertainment legend two months later to win it right back.