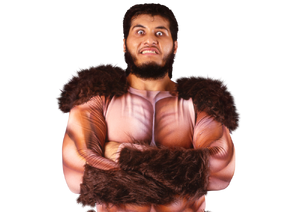 Giant Gonzalez
Statistics
In WWE Games
Giant Gonzalez Bio
Edit
No Superstar in sports-entertainment history was as immense as Giant Gonzales. Not The Great Khali. Not Big Show. Not even the legendary Andre the Giant. All men stood in the shadow of the 8-foot monster from the wilds of Argentina.
In 1993, the Argentinean competitor joined WWE where he made an unforgettable debut in that year's Royal Rumble Match. Although not officially a participant in the over-the-top-rope brawl, the giant made a startling appearance in the middle of the bout, lurching to the ring in a bizarre fur body suit that made him look like a shaved Wookie. Strange appearances aside, the 8-foot brute immediately targeted The Undertaker and savaged The Deadman in a way few Superstars have ever done.
Now known as Giant Gonzales, the tallest Superstar in WWE history challenged The Demon from the Death Valley at WrestleMania IX and nearly stopped The Undertaker's legendary "Streak" before it even started. Although he failed to defeat The Deadman, Gonzales went on to make mincemeat out of a series of overmatched opponents, oftentimes handling three Superstars at once.