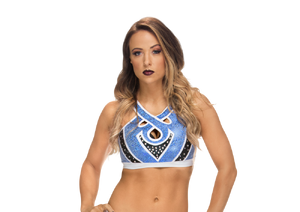 Emma
Statistics
In WWE Games
A Diva who dances like no one's watching and can pack a mean punch, Emma boasts a wacky attitude and quirky confidence that would make even the boldest men raise an eyebrow. This lively Diva is known for punctuating her victories with a unique dance that has left the WWE Universe befuddled. But Emma insists its significance is simple: "It's my victory dance," she says. "It reminds me to celebrate the fact that I am, indeed, a winner."
The NXT Diva was first spotted among the WWE Universe on the Jan. 13 edition of Raw, proudly holding up signs displaying her trademark #EMMAisms in the weeks that followed. On the Feb. 3 edition of Raw, the sign-toting Diva was called into the ring by Santino Marella to take his place in a dance-off against Summer Rae. Emma made the most of her first appearance inside a WWE ring by boogieing her way to victory over Fandango's sultry dance partner and putting on a truly #EMMAtaining performance.
Community content is available under
CC-BY-SA
unless otherwise noted.