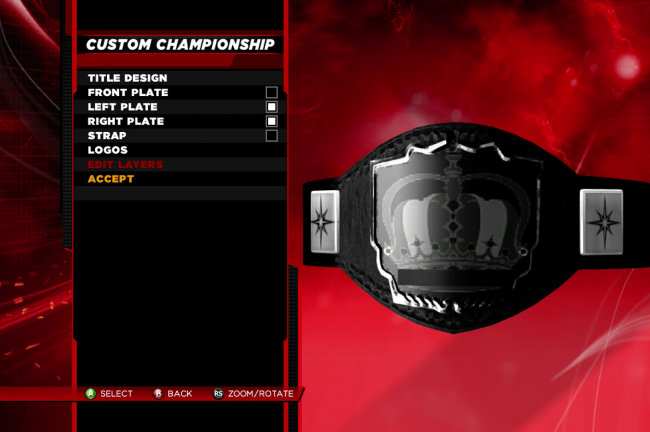 Custom Championship allows the ability to create an original Championship.  Customize the color of titles and apply logos, decals and sculptural reliefs to the front and side plates 
Custom titles can be placed up for grabs in Universe Mode
In WWE 2K14, the options are more vast. You can still decorate existing championships, but the mode now truly allows you to create a belt from scratch. Take a look at this video that shows the options available.
You begin by choosing from five different designs. There is some variety here, but the real customization options are in the way the belts can be individualized with icons. 
Changing the color of the front and side plates is the next step. From a conventional gold look to something over the top like pink, all colors are a possibility. You're able to add images from the database, but you're also able to create your own pictures with the image creation tool.
The possibilities really come alive when you begin to use the layering function. This is the biggest addition to the create-a-championship feature. Using a variety of shapes and stacking them creatively, you can create or recreate just about any image.
Even if you don't have the time to fuse shapes together to create your own image, you can utilize the huge stock of images and designs the game puts at your disposal.
Everything from show and pay-per-view logos to Superstars' images and catch phrases are available. This allows you to even customize existing championships for specific Superstars. Remember how The Rock and other champions have had their title reigns accented by customized belts?
This is possible with a little effort. Like anything, it all depends on how much time and imagination you're willing to devote to the project. At least this year, WWE 2K14 gives you a good amount of tools to work with.